Claire Beetlestone, Interviewed by Liz Congdon, November 11, 2012
Location of Interview: Cooperstown, New York



Claire Beetlestone is a radiologist, specialist physician, and storyteller who grew up in Philadelphia, Pennsylvania. In this clip Claire talks about an adventure she had after getting a bicycle.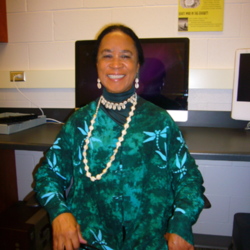 CB: My freedom came when they gave me a bike. I learned to ride the bike. My neighbor, two blocks away, got a bike at the same time and I took him on adventures. I said, "I know a place that's fun," because we have balloon tires. I said, we'll ride the railway tracks. So we rode them, bummpita, bummpita, bump- it's lovely. Then I said, "Dicky, we've got to get off these tracks." He said, "huh?" I said, "Off!" So we got off, and the train came through. Dicky and I never said anything to each other about that.
Click here to listen to the full interview or to read the transcript.