JoAnn Van Vranken, Interviewed by Maria Pease, November 18, 2009
Location of Interview: Fenimore Art Museum Research Library, Cooperstown, New York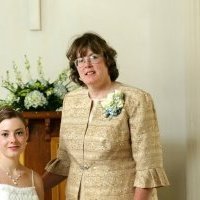 JoAnn Van Vranken was born 1959 in Cooperstown, New York. As a child she lived on a dairy farm and after graduating high school she attended SUNY Morrisville for an Associate's Degree in Secretarial Science. She married in 1979 and moved to several different states with her husband Bob, who was in the Air Force. They have two children. When he retired, they returned to New York and settled in Edmeston.
JVV: So being on a farm, my mother had an active role in the farming, and so I was the one that had to watch my baby brother Neil, and we would go up in the woods, build forts, I mean we would be gone all day long, up in the woods and we would watch my younger siblings.
My older brother was usually the one helping on the farm, but sometimes we had to help unload the hay too, so it's not like we were playing all the time. We did help unload hay, and it was not ones that were kicked in, my father had to stack them and we had to and so you know it was a flat. It was different than it is now as far as unloading hay.
We had a really fun time especially in the summertime, wintertime we were in school, so, but we used to go up in the woods with my brother and I would keep them occupied and then whenever supper was ready, my mother would go out and honk the car horn and when we heard it honk three times, it was time to come home. So we were pretty free, we had like 100 acres that we could just play around on. I enjoyed growing up on a farm.
Click here to listen to the full interview or to read the transcript.